VitaShield Intensive Eye Firming Treatment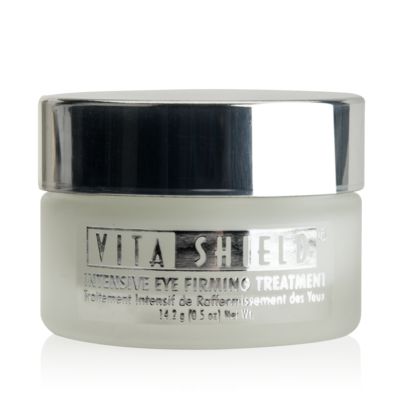 A powerful blend of vitamins and coenzyme Q10 designed to lessen the appearance of fine lines and wrinkles. Vitamin A and other compounds provide added power for younger-looking ...
FEATURED RECOMMENDATIONS
Details
---
A powerful blend of vitamins and coenzyme Q10 designed to lessen the appearance of fine lines and wrinkles. Vitamin A and other compounds provide added power for younger-looking skin. Added cucumber extract contains an astringent that can tighten the skin and lessen under eye puffiness. Intensive Eye Firming Treatment is formulated with Matrixyl.
VitaShield is a registered trademark of Market America, Inc. in the United States.
Benefits
---
Designed to defend against and minimize the visible effects of stress, fatigue and aging
Our formulation restores and enhances the delicate skin surrounding the eyes
This breakthrough topical treatment restores the process that stimulates firm, smooth, evenly-colored and visually superior skin
Regular use can have a profound effect on your skin and help minimize the appearance of fine lines, wrinkles, puffy skin and dark circles
Provides a microscopic film that firms, strengthens and protects the delicate tissues surrounding the eyes
Ingredients
---
Matrixyl
A micro-protein, lipopeptide for the treatment of cutaneous aging.

Coenzyme Q10
An important nutrient that every skin cell must have in order to produce energy; supports cell respiration and regeneration.

Vitamin C
Enhances the synthesis and protection of collagen, the support structure of the skin. A powerful antioxidant that prevents free radical damage to the skin's elastin and collagen, and diminishes dark circles caused by excess stress, pollution, fatigue and over-exposure to the sun.

Vitamin E
A powerful antioxidant for protection against free radicals generated by ultraviolet light and environmental pollution, such as ozone and tobacco smoke. Vitamin E moisturizes the skin from within, soothes and aids in tissue repair and enhances skin smoothness.

Vitamin A (Retinyl Palmitae)
Increases skin elasticity, normalizes dry, parched skin and promotes healthy-looking skin. Vitamin A is essential for normal skin development.

Hydrokoytl (Gotu Kola)
Extract strengthens skin, promotes connective tissue vascularization and increases collagen synthesis.

Coneflower (Echinacea)
Extract inhibits hyaluronidase in the body. Eyaluronidase degrades hyaluronic acid.

Cucumber Extract
Helps to smooth, tighten and refresh tired and sagging skin. It contains a group of tetracyclic triterpenses, commonly referred to as a bitter principles of cucurbitae, which have antioxidant activity. It has a cooling, demulcent and tonic effect on the skin and is credited with moisture-binding, moisture-regulating soothing, and anti-inflammatory capabilities. Traditionally known to aid in reducing dark circles under the eyes.

Hyaluronic Acid
Known for its superior moisturization, has been combined with a carbohydrate complex that closely mimics the natural carbohydrates found in the skin. This complex actually binds water, preventing moisture loss from the skin. Together, they provide a superior system for enhanced mositurization of the skin's epidermal and dermal layer, as well as actively participating in all skin repair, regeneration and restoration processes.
Reviews
---
Displaying reviews 1 - 5 of 23
---
Since I started using I have noticed less puffiness under my eye. I love the product so far.
---
I Love this Eye Treatment!!
I used to get oil seed while applied eye cream, but this is so good that Never ever breakout any oil seed at all!
and I applied day and night and almost finish it! and im going to get another new one soon!
---
I love this... I use it every night... and under my eyes has been such a help... I have dark circles but using this with my lumiere fading fluid has been amazing...

---
Finally found the right one!
Finally I found the eye cream that does not cause my eyes to itch. It is light but yet moisturising. My lower eye lid has a rather deep and long line due to my rubbing of my eye. After a month, it is not as deep so the line is lighter already. Most importantly, my eyes will not be itchy. So I can continue to use the eye cream and, maybe, one day the line will be gone!!
---
I have this Eye creme as an MAA that I want to submit this as MAA review for my customer to see.