Skintelligence pH Skin Normalizer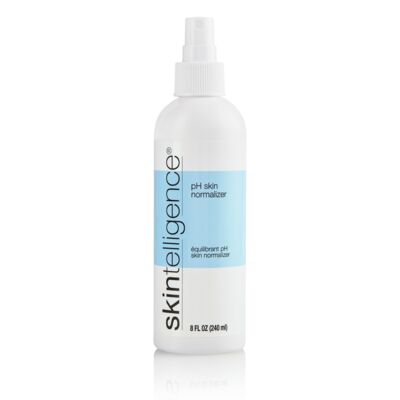 pH Skin Normalizer is a combination of special herbs that acts to naturally assist your skin to maintain a normal pH. Keeping your skin at the proper pH ...
FEATURED RECOMMENDATIONS
Details
---
pH Skin Normalizer is a combination of special herbs that acts to naturally assist your skin to maintain a normal pH. Keeping your skin at the proper pH level, your skin automatically acts to resist the effects of pollution, bacteria and other environmental conditions.
Benefits
---
Exfoliates dead skin cells
Removes final traces of dirt and makeup
Restores and conditions skin after cleansing
Normalizes pH of skin
Makes a great hair conditioner after shampooing
Alcohol free
Ingredients
---
Hydrolyzed Mucopolysaccharides A complex of proteins and amino acids derived from the hydrolysis of plant extracts - the essential constituents of every living cell. Moisturizes and lubricates the skin by acting like tiny "blotters" which bind moisture to the cells. The absence of these lubricating moisturizers can accelerate the deterioration of the skin's collagen, resulting in the loss of elasticity, flexibility, and texture. NaPCA A naturally occurring component of human skin that is believed to be in part due to its moisture binding capacity. It is highly water-absorbing (hydroscopic) and at high humidity dissolves in its own water of hydration. Application of this compound to the skin as a humectant increases skin softness. Sodium Lactate A humectant (absorbs moisture) which is substituted for glycerin because of its superior softening properties and its ability to absorb more moisture into the skin. Butylene Glycol A humectant (absorbs moisture) which permeates easily into the skin. Used extensively in skin and hair care products as a safe, non-irritating moisturizer. Horsetail Extract Made from the stems of the plant and has antibiotic properties that heal cuts and sores on the skin. Calendula Extract Made from the dried flowers of marigolds. Used to soothe inflammation of skin and mucous membranes. Lemon Grass Extract Distilled from the leaves of lemon grasses. Used in the preparation of perfumes for its healing properties and fragrance. Clove Extract Used for its antiseptic properties. Bee Pollen A fine powder-like material produced by the anthers of flowering plants and gathered by bees. Bee pollen contains the B-complex vitamins, vitamin C, amino acids, polyunsaturated fatty acids, enzymes and other proteins (10-35% by weight), carotenoids, calcium, copper, iron, magnesium, potassium, manganese, and sodium. Bee pollen has an antimicrobial effect on the skin and is used as a healer of wounds and as an excellent source of nourishment for the skin cells.
Reviews
---
Displaying reviews 1 - 5 of 64
---
A baby boomer dream product! Wow, what a way to wake up an older, aging face after shaving (with a Shopping Annuity razor) and before MA personal preference skin care products.
---
I love that product I give 5 star
I love products and all my customers like too thankyou Ma
---
Refreshing and makes my skin feel so wonderful. Have used this product for 9 years.
---
---
I love the easy to use spraying bottle which makes applying toner easier.