Pentaxyl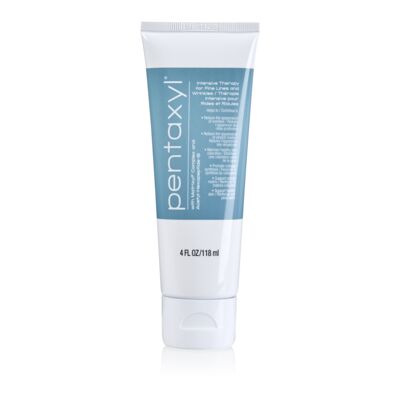 In today's world, looking beautiful is one of society's top priorities. One of the most important aspects of beauty is proper skincare. Our skin is the canvas to ...
FEATURED RECOMMENDATIONS
Details
---
In today's world, looking beautiful is one of society's top priorities. One of the most important aspects of beauty is proper skincare. Our skin is the canvas to the rest of our beauty regimen.
Whether our concern is having a flawless complexion, a glowing and vibrant colour or a smooth texture, finding the best ways to keep our skin looking amazing is of utmost importance. Our skin demonstrates to the world the time, effort and value we take to look our best.
Beautiful skin should last a lifetime. External factors like pollution and internal factors like oxidative damage and poor diet often stress the skin. This leaves the skin dry and dull or oily and dirty. As part of the natural aging process, the skin begins to develop deep wrinkles and furrows around the forehead, brow and eyes. The skin loses its natural lustre and colour. Pentaxyl may help to decrease the appearance of deep wrinkles and furrows, and help skin appear firm and thicker.
Pentaxyl is a proprietary blend of herbal extracts and the breakthrough formulas of the Matrixyl Complex and Argireline which reduce the appearance of wrinkles and furrows, help skin look thicker and firmer, and gives the skin a youthful glow. Pentaxyl has harnessed the age-fighting power of "bio-peptide" technology, with three age-fighting bio-peptides (1) Pamitoyl-Pentapeptide-3 (Matrixyl) (2) Palmitoyl Oligopeptide (3) Acetyl Hexapeptide-3 (Argireline). Peptides are a low molecular weight amino acid groups that are building blocks of proteins that make up plants and animals. Palmitoyl-Pentapeptide-3 was discovered at National Institute of Health.
Pentaxyl may reduce the appearance of stretch marks. Skin will take on a more youthful appearance. While nothing can rewind time, Pentaxyl has been shown to support a beautiful, resilient, flawless look by fighting against the visible signs of aging.
Pentaxyl is a registered trademark of Market America, Inc. in the United States.
Benefits
---
Works on both the epidermis and the dermis
Contains three Peptide formulas
Matrixyl supports the skin's ability to produce its own collagen
Reduces the appearance of wrinkles and furrows (especially in the brow, forehead and eye areas)
Promotes the look of skin firmness and thickness
Reduces skin discolourations and increases hydration
Supports smooth skin texture and colour
Helps minimize the appearance of stretch marks
Ingredients
---
Acetyl Hexapeptide-3
Acetyl Hexapeptide-3 is a unique blend of three amino acids that has been reported to reduce the appearance of wrinkles on the forehead and eyes caused by facial expression muscles.
Palmitoyl Oligopeptide
Palmitoyl oligopeptide, a fragment of collagen, is a chain of five amino acids bonded together and linked to a fatty acid. Research has shown that palmitoyl oligopeptide can promote normal collagen, elastin, hyaluronic acid and glycosaminoglycans in the skin, providing your skin with a smoother, more youthful-looking appearance.
Bearberry & Licorice Extracts
Bearberry is a woody plant also known also as Uva ursi. The leaves contain numerous active ingredients, the most important of which is arbutin. These ingredients are responsible for the ability of Bearberry extracts to brighten the skin and help maintain healthy skin colouration.
Licorice promotes brightening of the skin to reduce the appearance of blotchy skin and hyper-pigmentation. It also helps soothe dry and irritated skin, and helps provide moisture and skin nourishment.
Vitamin A
Vitamin A is a natural antioxidant vitamin that helps to protect and nourish your skin. Vitamin A helps to maintain healthy collagen in your skin and protect your skin from free radicals, giving your skin a supple, healthy and more youthful appearance.
Vitamin C
Vitamin C is an important antioxidant vitamin that is essential for maintaining your skin's natural collagen. By supporting your skin's natural collagen, vitamin C helps your skin achieve a firmer, suppler and more youthful glow.
Vitamin E
Vitamin E is a powerful natural antioxidant vitamin that helps to protect and nourish your skin. Vitamin E helps to moisturize your skin while also protecting it from environmental factors, giving your skin a healthy and more youthful appearance.
Matrixyl
Matrixyl is the trademark name for palmitoyl pentapeptide-3. This breakthrough ingredient supports healthy collagen in the skin. Matrixyl becomes even more effective when combined with other peptides.
FAQ
---
When will I begin to see results?
Pentaxyl's proprietary compounds may produce a visible reduction in the appearance of stretch marks (prominent because of their depth, length and texture) and existing wrinkles in about 28 days.
Will Pentaxyl help with old wrinkles/stretch marks?
Absolutely! Pentaxyl can help no matter how long you've had your wrinkles/stretch marks - whether it's been 10 days or 10 years.
Can I use Pentaxyl on the wrinkles/circles underneath my eyes?
The correct way to apply Pentaxyl to the eye area is to softly massage it into the skin, covering the orbital bone around the eye. Do not apply Pentaxyl directly underneath the eye or on top of the eyelid. Please use VitaShield Eye Cream which also contains Matrixyl.
Can I use Pentaxyl with other skincare products?
Pentaxyl can be used with virtually all other facial products. We suggest that you test any combination of skincare products on the inside of your forearm before applying it to your face. Of course, if you are using a prescription skincare product, you should consult your physician. Remember, always apply Pentaxyl first, then if needed, you may apply a moisturizer or on top of Pentaxyl.
Does Pentaxyl work on all colours of skin?
Yes.
Reviews
---
Displaying reviews 1 - 5 of 140
---
fantastic face cream day and night, even i use it like eye cream helped my fine line disappeared. love it !
---
Amazing age defying Pentaxyl
It is such a blessing that I come across Pentaxyl as it makes my skin more vibrant and youthful. I kept purchasing it and also recommend it to friends where they are happy with the results too. We are so happy with such a quality product that priced reasonably.
---
my favorite skin care product.
excellent product, very refreshing feeling, as well as keeping you younger looking and feeling.
Response from Customer Service:
12/18/2019
Dear Valued Customer
Thank you for taking the time to leave your thoughts on the Pentaxyl®! We are happy to hear you are pleased with the product!
Thank you again!
The Product Information Team
---
i really love this product and I call it a magic cream. My fine lines are not so visible anymore and my complexion has been improved accordingly to my mum-in-law ... strongly recommended!!
---
I love Pentaxyl. I've only been using for about 3 weeks and my pores are smaller, skin is clearer and smoother. I have noticed my laugh lines around my mouth are less pronounced too.

Response from Customer Service:
11/21/2019
Dear Valued Customer,

Thank you for taking the time to leave your thoughts on the Pentaxyl. We are happy to hear you are pleased with the product.

Thank you again!
The Product Information Team