Motives Glitter Pots
$19.94 CAD
AutoShip price:
$18.94 CAD
$0.40 CAD Cashback
colour:
Vivid Blue
|
sku: C104MEG
This product qualifies for free or flat-rate cost shipping. Learn More
Details
---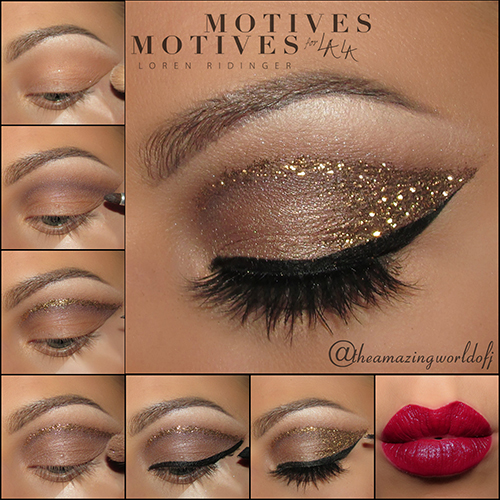 A versatile glitter makeup for the face and body. These lightweight, fine particles of bright light add glamour to any look. Use with Glitter Adhesive to add pure sparkle with added drama to your look.
Motives is a registered trademark of Market America, Inc. in the United States.

Create this look:

Apply Motives Eye Base to the entire lid
Apply Motives Pressed Eye Shadow in Rock Candy as your transition shade
Apply Motives Pressed Eye Shadow in Deep End to darken the crease and outer v and inner corner and along the lower lash line
Apply Motives Glitter Pots in Pot of Gold, Karma, Jewel Pink, Magic Dust, and Diamond by mixing them all together
Apply Motives Mineral Gel Eyeliner Little Black Dress on your top lash line in a cat eye form
Apply Motives Mavens Matte in She's a Doll to the lips
Set this look for all-day wear with Motives 10 Years Younger Makeup Setting Spray
Benefits
---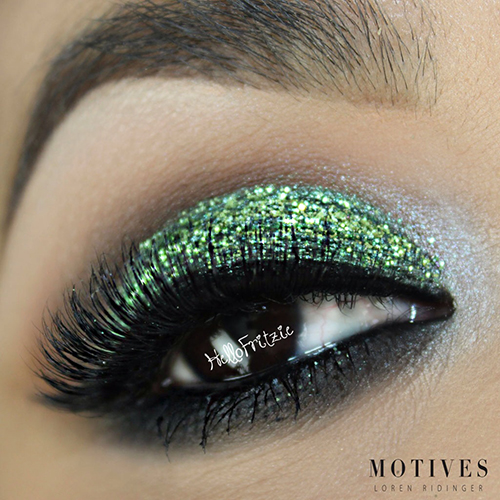 Adds sparkle to the eyes
Lightweight, fine particles add glitter to any makeup
Different colours to accentuate any eye colour
Create subtle or bold looks with varying application
Create this Look:

Apply Motives Eye Base
Using Motives Mavens Element Palette
Apply 'native' on crease as transition shade
Apply Motives Khol Eyeliner in Angel on lid
Apply Motives Paint Pot Mineral Eye Shadow Cha-Ching where 'Angel' is placed
Take 'truffle' and apply on the outer V and blend
Apply Motives Khol Eyeliner in Onyx and smudge 'truffle' on lower lash line. Then take Motives Glitter Pot in Karma and apply it on the tear duct
FAQ
---
How do I use Motives Glitter Pots?
Apply Motives Glitter Adhesive before Glitter Pots
Use Motives Eye Blender Brush to apply a heavy amount all over the lid, face or body
Use Motives Angled Eyeliner Brush to apply along the lash line for a subtle glitz
Use your finger to apply a small amount over your favourite Motives Pressed Eye Shadow or Motives Luxe Crème Eye Shadow shade to enhance the eye
Why do most people like Motives Glitter Pots?
Motives Glitter Pots are a lightweight formula used to accentuate any look day or night. This product can be used to add a little bit of glitter or a lot, depending on your mood and also to enhance your eye shadow. Use Motives Glitter Pots alone for a funky glam look or pair with your favourite Motives eye shadow.
How can I create a more toned-down look for the office?
You can create subtle or bold looks with varying application. For a more professional look use glitter sparingly. Applying a very little to the eye will catch the light and add subtle sparkle throughout the day. We suggest applying a small amount to the outer corner of the eye for a subtle look.
Can I use Motives Glitter Pots by themselves without applying any other eye shadow?
Yes, you can apply Motives Glitter Pots by themselves or pair with your favourite shade of Motives Pressed Eye Shadow. Motives Glitter Pots also looks great over top of Motives Luxe Crème Eye Shadow – the glitter really pops against the neutral background.

How many colours do Motives Glitter Pots come in?
Yes, there are several different colours of Motives Glitter Pots – from coppery brown to vibrant plum to black. Create fun and chic looks for day or night Motives Glitter Pots.
Reviews
---
Displaying reviews 1 - 5 of 15
So beautiful, the colour pay off is amazing and a little bit of product goes along way!
05/17/2012
by MariaelenaS
These litterally add drama to your eyes! Add them with eye shadows or as eyeliner!! Will miss embellish!!
I have the aspire and celebrate glitter pots. I use it with Motives Adhesive Stick and it stays on all night when I go out. The glitter doesn't make too much of a mess when applied. I want to get the rest of the glitter pots!
I use this product as eyeliner and eyeshadow as well.This is such a fun product to use for party
01/02/2012
by DANIELLE AND JOSEPHG
I wore this for New Year's Eve and got many compliments. Everyone thought it was fabulous! It was easy to apply and I was surprised by how fine it is (I was expecting it to be more "chunky", like most other brands). The only problem I ran into was that by the end of the night it was starting to fall off, but I used a cheap glitter glue from [@] and attribute it to that. Next time I'll try it with the Motives glitter glue.