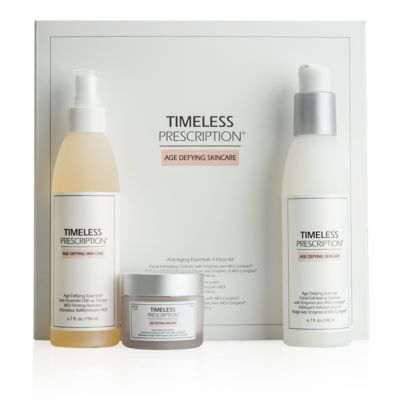 Timeless Prescription Anti-Aging Essentials 3 Piece Kit
$171.75 CAD
AutoShip price:
$163.16 CAD
$3.44 CAD Cashback
Includes Facial Exfoliating Cleanser, MDI Firming Activator and Face Firming Moisturizer
|
sku: C11134
This product qualifies for free or flat-rate cost shipping. Learn More
Details
---
The secret to youthful, clear looking skin is yours with Market America's 3-Piece Anti-Aging Essentials Kit. This kit contains three essential steps in providing your skin with the natural enzymes, nutrients and hydration it needs to be simply radiant. The first step, Facial Exfoliating Cleanser with Enzymes, gives your face a clean, smooth and refreshing feeling. The next step, MDI Firming Activator, helps skin increase firmness and elasticity. The third step, Face Firming Moisturizer with MDI Complex, provides the skin with long-lasting hydration and maximum antioxidant protection. Makes a great gift. Save $10 off the suggested retail price!
Benefits
---
Exfoliating cleanser
Promotes firmness and elasticity
Hydration and antioxidant protection
---
Be the first to write a review!