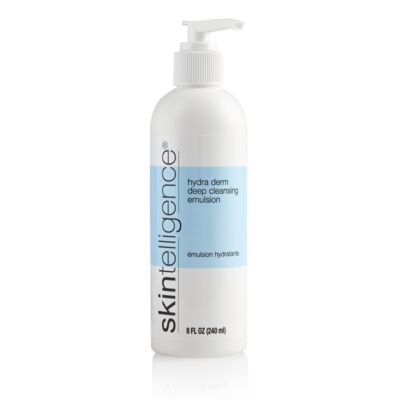 Skintelligence Hydra Derm Deep Cleansing Emulsion
$25.04 CAD
AutoShip price:
$23.79 CAD
$0.50 CAD Cashback
Cleansing Emulsion - Single (8-oz./237-ml. Bottle)
|
sku: C1016
This product qualifies for free or flat-rate cost shipping. Learn More
Details
---
Hydra Derm Deep Cleansing Emulsion is a water-activated, deep cleansing emulsion that penetrates beneath the skin surface to loosen and dissolve dirt, makeup and sebaceous impurities. This product will not clog pores and contains all natural ingredients.
Benefits
---
Thoroughly cleanses the skin and allows it to breathe naturally
Will not strip skin
Will not clog pores
Contains moisturizers to soften and hydrate the skin
Fortified with special soothing herbs: aloe vera, chamomile and lavender
Excellent for shaving for men and women: non-drying and non-irritating
Large 8 oz. size is long lasting and economical
---
Both my teenage son and daughter use this line and really like it, very easy to use and great results.
I have been using this line for over 2 years and I loved it, but you changed the formula and now it stings my eyes horribly when cleaning my face. I don't do well with eye makeup removers, they tend to leave a film on my eyes. I am disappointed that the product was changed!
I just love the Skintelligence line of skin care. It does the job leaving my skin clean and soft without drying it out. It also has a wonderful subtle frangrance. Not overpowering , but relaxing. Will continue to use this product as long as I can get it.
I have been using this product for years, and it still helps keep my skin clean and balanced.