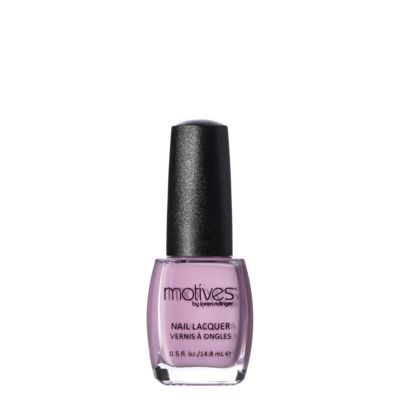 Motives Nail Lacquer
$10.50 CAD
$0.21 CAD Cashback
colour:
Fierce
|
sku: C5423MNP
Product is discontinued.
+ view more
This product qualifies for free or flat-rate cost shipping. Learn More
---
Love the colours and how the smell doesn't linger! Just one thing - the Daydream colour stains the nails so hope SHOP.COM will be able to revamp that one because my sister and I LOVE the colour!
My bottle comes with me to the Salon!
I like the coverage and lasting power of the Motives colors, I always used to bring my own color (OPI) with me because I would need to touch up the paint between fills, but now I just use my Motives and don't need to touch up in between.
Durable color with strong pigments
I play the harp and spend a lot of time typing on a computer for school. Motives is the longest-lasting polish I've tried and is really resistant to chipping during my daily routine. It goes on smooth, but isn't watery. I'm also really impressed with the lighter colors, such as the white and nude, because I only need one normal coat or two thin coats to get the true color to appear on my nail. I've been really disappointed with the light colors from much more expensive brands, like OPI, but Motives requires much less to look good!
This is good nail color. Wish it makes more color like bright red, redish-pink, and light gray colors.
I have used the Motives Nail polishes for years. My manicurist loves them for me, and I adore the colors. They endure a heavy computer use without chipping and do not appear to fatigue in the harsh chlorine of pools.