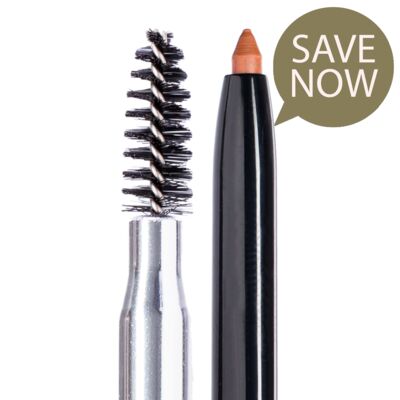 Motives Mineral Waterproof Eyebrow Pencil
$25.04 CAD
AutoShip price:
$23.79 CAD
$0.50 CAD Cashback
colour:
Light Brown
|
sku: C55MBP
This product qualifies for free or flat-rate cost shipping. Learn More
Details
---
A creamy, retractable pencil that helps create naturally sculpted brows. The firm formula glides on smoothly to fill in sparse areas and maintain attractive eyebrows. The spooly brush allows you to tame and fill in sparse areas for full and flawless brows. Motives is a registered trademark of Market America, Inc in the United States.
Benefits
---
Creates natural-looking brows
Defines and sculpts brows for a polished look
Ideal for filling in sparse brows
Ingredients
---
Key Ingredients Found in Motives Eyebrow Pencil: Cera alba (Beeswax) Wax from honey bees provides a luxurious consistency that allows for a smooth and even application. Copernicia cerifera (Carnauba) Wax Wax derived from the Brazilian tropical palm tree, Copernicia cerifera, which offers a rich, creamy consistency that allows for a smooth and even application. Euphorbia cerifera (Candelilla) Wax Wax from the Euphorbia cerifera plant offers a rich, creamy consistency that allows for a smooth and even application. This wax also is used in cosmetics to give lipstick structure. Ricinus Communis (Castor) Seed Oil Castor seed oil is derived from the castor oil plant. Castor seed oil has excellent moisturizing properties that help keep your lips hydrated, and looking smooth and full. It acts as a skin conditioning agent by forming a protective barrier to help reduce water loss for moisturized skin.
FAQ
---
How do I use Motives Eyebrow Pencil? Apply Motives Eyebrow Pencil using short strokes going in the direction of hair growth. Repeat for heavier coverage. Use your Lash/Brow Groomer Brush to brush through the eye brow for a natural finish.
I have patchy eyebrows. Will this product look natural? While nothing can replace your natural brows, the Motives Eyebrow Pencil can give you a natural look. With several shades to choose from, you can match the pencil to your brow and give the appearance of a fuller brow.
Can I use this eyebrow pencil to shape my brows? Yes. You can add thin strokes to the desired areas of your brow to give it the right amount of arch.
Will my eyebrows look painted on? No. Because it is a pencil, it will not have a shiny finish to it and will blend in with your natural brow.
Why should I use a pencil instead of a powder? Pencils give a more natural appearance because the strokes look more like a natural brow. Powders are good for filling and darkening, but not for adding shape.
---
Great product-color discontinued?
I love the product, but am extremely upset that "Taupe" color is no longer available. That's the only color that matched my hair tones. I no longer buy this product for that reason.