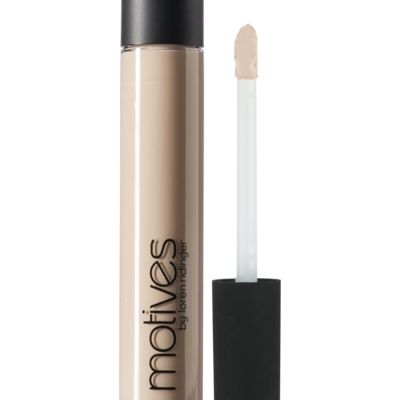 Motives Liquid Correction Concealer
$26.36 CAD
AutoShip price:
$25.04 CAD
$0.53 CAD Cashback
colour:
Fair
|
sku: C001MLCC
This product qualifies for free or flat-rate cost shipping. Learn More
Details
---
A matte formula that highlights and conceals. Discover the secret to completely erasing dark, under-eye circles once and for all. With just a swipe of this super powerful corrector, darkness disappears instantly to reveal a lighter, brighter, well-rested appearance. Motives is a registered trademark of Market America, Inc. in the United States.
Benefits
---


Minimizes the appearance of skin imperfections


Provides medium to full long-lasting coverage


Vitamin E moisturizes skin


Honeysuckle extract soothes skin


Beeswax provides smooth and even application


Paraben free


Ingredients
---
Simmondsia chinensis (Jojoba) Seed Oil A natural ingredient derived from the seeds of the desert shrub Simmondsia chinensis that helps slow the natural loss of water from the skin and, therefore, helps to keep your skin moisturized, and looking smoother and firmer.
Centipeda Cunninghamii Extract An extract from a small, aromatic, perennial herb that has been traditionally used to rejuvenate the look of skin and maintain normal skin appearance.
Lonicera caprifolium (Honeysuckle) and Lonicera japonica (Japanese Honeysuckle) Flower Extract Extracts of honeysuckle and Japanese honeysuckle are rich in plant phytonutrients like saponins and flavones. These extracts help protect your skin from the environment while soothing your skin.
Tocopherol (form of Vitamin E) Tocopheryl acetate is one of the most well-known and researched antioxidants. Vitamin E helps to moisturize your skin, giving it a healthy and more youthful appearance.
Beeswax Wax from honey bees provides a luxurious consistency that allows for a smooth and even application.
FAQ
---
What skin tones does this product work best for? Since it comes in four shades, this product complements any skin tone.
How much coverage does Motives Liquid Correction Concealer provide? Motives Liquid Correction Concealer provides medium to full coverage.
If I already use a foundation, what additional benefit do I get from using a concealer? While foundation provides a good base preparing your face for makeup application, it's not as effective at covering blemishes. Since a concealer is thicker than foundation, it is an ideal product for spot treatment. It is designed to act as a temporary makeup solution to hide skin imperfections.
Can I use foundation and concealer together? Absolutely! In order to get the perfect match, use a concealer that is one shade lighter than your foundation.
Why is vitamin E important? Vitamin E is important because it gives your skin the hydration it needs. It's important to keep your face hydrated, as dry skin can age faster, and it can cause the appearance of dead skin cells.
---
Be the first to write a review!