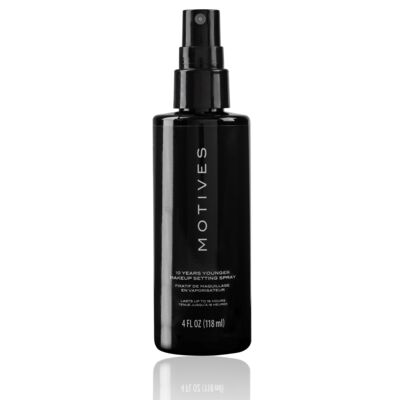 Motives 10 Years Younger Makeup Setting Spray
$39.57 CAD
AutoShip price:
$37.59 CAD
$0.79 CAD Cashback
10 Years Younger Makeup Setting Spray
|
sku: C301FS
This product qualifies for free or flat-rate cost shipping. Learn More
Details
---
A setting spray that mists on to keep makeup from smudging or settling into fine lines. Keep your makeup looking vibrant all day, with skin that has a glowing, dewy, youthful complexion.
Motives is a registered trademark of Market America, Inc. in the United States.
Benefits
---
Helps reduce makeup slippage into pores, lines, wrinkles or scars
Keeps makeup looking flawless day and night
Fewer required touchups throughout the day
Saves up to 50% of makeup usage
Ingredients
---
Aloe Barbadensis Leaf Juice Rich in enzymes, amino acids and plant compounds, aloe vera helps to keep the skin moisturized, maintain normal, healthy blood circulation, and soothes and rejuvenates the skin, leaving it looking and feeling smooth and firm.
FAQ
---
Why should I use Motives 10 Years Younger Makeup Setting Spray? Motives 10 Years Younger Makeup Setting Spray uses its unique dispersal system to apply a protective coating that helps keep skin moisturized and holds makeup in its place. This prevents the makeup from settling into lines and wrinkles so skin appears smoother and younger.
How do I use Motives 10 Years Younger Makeup Setting Spray? Shake the bottle gently before use. Pump the mist in back and forth movements about eight inches from your face after you have applied your makeup.
How often should I use this product? For best results, use this product daily as the last step in your makeup application.
Is Motives 10 Years Younger Makeup Setting Spray for all skin types? Yes, this is a must-have for everyone!
What other products should I use with Motives 10 Years Younger Makeup Setting Spray? First use the Motives Perfecting Face Primer to create a youthful canvas for makeup application. This oil-free foundation primer helps your cosmetic application maintain high-colour pigments with all day staying power. Finish off your look with Motives 10 Years Younger Makeup Setting Spray to ensure that you look flawless at any time!
---
I love this product. I can't go without this product. Have used ever since we have sold this.
I can't believe this is discontinued!
I just got notice that I can't order it anymore! What is a girl to do to look her best everyday! Bring it back please!!
Truly helps makeup stay in place all day!
A must have, especially if you sweat w/ ur face on
I absolutely swear by this product. I workout non-stop and always with my face on. After CrossFit everyone always asks me how it's possible that I still have on my full makeup and it isn't completely off or running down my face (and yes, I'm a HUGE sweater) I always tell them that it's two things...First things first, it's my makeup setting spray and secondly I DO NOT wipe my face with a towel, I simply pat my face where the sweat is running. The rest of me is soaked when I'm done with my WOD but my face is still flawless and I'm ready for a fab lunch with my husband. I also use the motives make-up primer and I think that plays a huge role too. It's a crime not to prime. You're welcome :0)
I love this spray. I apply my make-up in the morning, spray my face, and when I get home at night my make-up looks just as good as when I put it on. No greasy residue. A must have!!